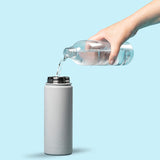 FILL
With your own FOAMING soap and
water.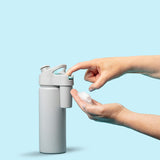 PUMP
Automatically creates foam in the palm of your hand.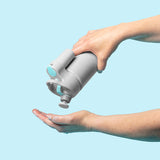 RINSE
With our unique water spout so you get your hands truly clean.
REFILLABLE Suds2Go Caps
Mini Size. Major Clean.
Don't let the size fool you! Take portability to a whole new level with our all new REFILLABLE Suds2Go Caps. With one pump, it puts foamy soap in the palm of your hand.
Proven to be the best way to eliminate germs, the #1 cause of illness in adults and children. Simply by washing the hands.
Just press the cap on to any standard disposable water bottle and use. Delivers approximately 30 pumps of soap per fill.
PERFECT FOR ANY OUTDOOR ACTIVITY
BUY A BOTTLE, GIVE A CAP TO A STRUGGLING FAMILY
We're excited to announce that we've teamed up with Kitchen on the Street to provide Suds2Go caps to food-insecure and displaced children to ensure they can reap the benefits of clean hands no matter where they are! Every bottle purchased generates a cap donation. If you buy a bottle today, we will donate a suds2go cap to Kitchen on the Street. Our intention is to make clean hands a reality for every child, no matter what social economic status they are living in.